IBA Executive & Transactional Team
Indiana Business Advisors has sold over 2,200 businesses for Indiana small business owners. We are the leading and largest business brokerage firm in Indiana specializing in marketing and selling Main Street and Lower Middle Market businesses. With more than 175 Indiana businesses available for acquisition and more than 220 franchisers seeking to expand in the state our access to a network of 10,000 businesses of all sizes nationally and internationally keeps us at the forefront of business brokerage.
Since 1981, Indiana Business Advisors has taken the mystery and confusion out of buying a business. That's because we possess the depth of knowledge, experience, and key business relationships required to give you discreet, full-service, investment banking-level professionalism through every step of the transaction. Your success is our success.
Andrew Wahl's Biography
Andrew comes from a long line of entrepreneurs and small business owners from Central Indiana. At the age of 16, he started his first small business doing landscaping for a local real estate firm. Fast forward over 15 years later, he is active in commercial real estate, business brokerage, and owns/operates Indianapolis' largest locally-owned drone company, TopShot Aerial Photography. Andrew genuinely enjoys working with business owners of all types and will describe working in this role as, "something I have always looked for – the perfect balance of working and enjoyment that makes it feel like a hobby vs working a job."
As a Ball State University graduate, Andrew focused on Entrepreneurship and Small Business Management through the Miller College of Business. Immediately after graduation, he went into sales while operating TopShot on the side. A decade of selling everything from office technology to commercial relocations gives him experience working with business owners and managing teams to complete projects. In 2020, and after years of being surrounded by real estate agents, Andrew attained his real estate license and started in the commercial industry with a focus on commercial and industrial clients.
While Andrew loves business, he also enjoys being involved with the community as a leader. He is the only person in the history of the Indy Chamber to hold a Presidency position for 2 years while he led the Indy Chamber Ambassadors in 2020 and 2021. He also takes pride in his advisory board position for Midwest Food Bank, who regularly is fighting the hunger crisis in Central Indiana/around the Country. Additionally, Andrew enjoys helping out and volunteering on the Rebuilding Together Indianapolis board and sitting in on an occasional REDi program (an awesome organization helping formerly incarcerated people create a business plan and get back on their feet). He is very excited about being named a nominee for Indy's "Best and Brightest" in 2022 under the Media and Sports category.
Outside of work and community engagement, Andrew will be found spending any off time on his boat with his young family. His wife (Lauren) works in land acquisition for a local multifamily developer and they have one son named Christian (15 months old) and expecting another "surprise" in early June 2022. Andrew has a black lab named Apollo that loves being in the water as much as his family does.
Contact Andrew:
317-919-7331
Email: awahl@indianabusinessadvisors.com
LinkedIn: www.linkedin.com/in/andrew-wahl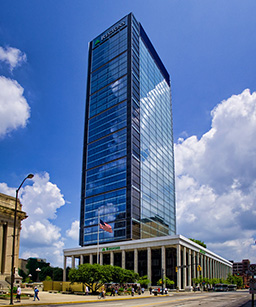 Contact Information
Indiana Business Advisors
9333 N Meridian St, Ste 200
Indianapolis, IN 46260
· · · · · · · · · · · · · · · · · · · · · · · · · · ·
Office: 317-573-2100
Hours: Mon.-Fri. 9 am-5 pm
· · · · · · · · · · · · · · · · · · · · · · · · · · ·
Appointments: Click Calendly