IBA Executive & Transactional Team
Indiana Business Advisors has sold over 2,200 businesses for Indiana small business owners. We are the leading and largest business brokerage firm in Indiana specializing in marketing and selling Main Street and Lower Middle Market businesses. With more than 175 Indiana businesses available for acquisition and more than 220 franchisers seeking to expand in the state our access to a network of 10,000 businesses of all sizes nationally and internationally keeps us at the forefront of business brokerage.
Since 1981, Indiana Business Advisors has taken the mystery and confusion out of buying a business. That's because we possess the depth of knowledge, experience, and key business relationships required to give you discreet, full-service, investment banking-level professionalism through every step of the transaction. Your success is our success.
Andy Lamberson's Biography
Andy Lamberson has spent over 33 years in the healthcare industry with the last twenty in a senior position / President and owner of an Indianapolis-based healthcare staffing company, RN & Allied Specialties. While at RN & Allied Specialties, Mr. Lamberson also founded and propelled the Indianapolis non-medical company At Home Preferred, (www.athomepreferred.com).
Andy fully understands the challenges and rewards of running a small business, particularly staffing firms. Specifically, he is well versed in managing a business through its various lifecycles – excitement, growth, maturity, decline, survival, and re-birth. In 2017, he conducted a full selling process and ultimately exited with a sale to Aya Healthcare, an industry leader in the nurse travel industry Andy has firsthand experience with the selling process – from creating a dynamic investment book, through identifying qualified buyers, to IOI, LOI, Purchase agreement and getting to close. He can help clients with not only exit planning but also practical business matters, growth, and expansion strategies. He has one driving goal for any" sell-side" prospective client; finding a qualified buyer, attaining maximum value, and completing the deal.
Andy graduated from Brebeuf Preparatory in 1977 and with a BS from Indiana University's Kelly School of business in 1981. If you are interested in discussing the possibility of becoming a new business owner or want to begin a conversation around the idea of selling your business, you may contact Mr. Lamberson below.
Contact Andy:
317-694-7953
Email: andy@Indianabusinessadvisors.com
LinkedIn: https://www.linkedin.com/in/andy-lamberson/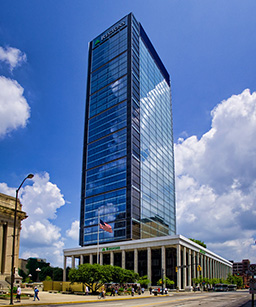 Contact Information
Indiana Business Advisors
9333 N Meridian St, Ste 200
Indianapolis, IN 46260
· · · · · · · · · · · · · · · · · · · · · · · · · · ·
Office: 317-573-2100
Hours: Mon.-Fri. 9 am-5 pm
· · · · · · · · · · · · · · · · · · · · · · · · · · ·
Appointments: Click Calendly