IBA Executive & Transactional Team
Indiana Business Advisors has sold over 2,200 businesses for Indiana small business owners. We are the leading and largest business brokerage firm in Indiana specializing in marketing and selling Main Street and Lower Middle Market businesses. With more than 175 Indiana businesses available for acquisition and more than 220 franchisers seeking to expand in the state our access to a network of 10,000 businesses of all sizes nationally and internationally keeps us at the forefront of business brokerage.
Since 1981, Indiana Business Advisors has taken the mystery and confusion out of buying a business. That's because we possess the depth of knowledge, experience, and key business relationships required to give you discreet, full-service, investment banking-level professionalism through every step of the transaction. Your success is our success.
Deborah Beck's Biography
Deborah (Debb) Beck understands the importance of a transaction to buyers and sellers because she has been there more than once. She joined Indiana Business Advisors with the mission to help buyers and sellers find the right fit with a smooth sale process. She has a knack for discovering and highlighting the value in a business and finding creative ways to make deals work for the benefit of both sides. As a medical device executive and a patent law partner, she led strategic acquisitions and structured many other transactions ranging from licensing and manufacturing contracts with small to Fortune 500 companies to vendor contracts with hospital systems. Her previous experience with the operations and strategies of manufacturing, distribution, and services companies align with the industry focus of IBA.
One outside activity Debb enjoys is participating in a CEO Club, which allows her to get behind the scenes and help others solve crucial and confidential business decisions in a variety of companies ranging from IT and manufacturing to services like banking and CPA firms. Discussing confidential business issues in-depth and assisting others in making crucial business decisions gives her further insight into helping her clients with transactions.
Debb led the sale of a medical device company owned with her partners for a large multiple of revenue. Although the deal was successful for both sides, she recognized that representing her own companies in an acquisition involved some treacherous water. She decided to become a transaction advisor with IBA so she can help others navigate what could be the biggest transaction of their lives.
Debb earned her B.S. from Illinois State University, an M.S. in Biological Sciences from Purdue University, and a Juris Doctorate, Magna Cum Laude at The University of Akron School of Law. She is also a registered patent attorney and the qualifier for a private investigation license. She was a Forty Under 40 award recipient from the Indiana Business Journal. She previously served on the Screening Committee for VisionTech Angels and as a Board Observer for one of the portfolio companies. She has also enjoyed serving as a Panel Member and Mentor for the Kelley School of Business MD MBA Program and on the Intellectual Property Law Advisory Council of the University of Akron Law School.
On a personal note, Debb with her Search Dog, Lillian Grace earned a Trailing certification from a school for professional K9 Teams. They perform missing pet investigations and searches and regularly train with professional and Search and Rescue K9 Teams.
Contact Deborah:
317-218-8637
Email: debb@Indianabusinessadvisors.com
LinkedIn: https://www.linkedin.com/in/debb-beck/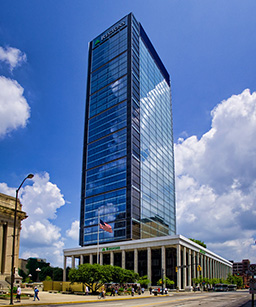 Contact Information
Indiana Business Advisors
9333 N Meridian St, Ste 200
Indianapolis, IN 46260
· · · · · · · · · · · · · · · · · · · · · · · · · · ·
Office: 317-573-2100
Hours: Mon.-Fri. 9 am-5 pm
· · · · · · · · · · · · · · · · · · · · · · · · · · ·
Appointments: Click Calendly