IBA Executive & Transactional Team
Indiana Business Advisors has sold over 2,200 businesses for Indiana small business owners. We are the leading and largest business brokerage firm in Indiana specializing in marketing and selling Main Street and Lower Middle Market businesses. With more than 175 Indiana businesses available for acquisition and more than 220 franchisers seeking to expand in the state our access to a network of 10,000 businesses of all sizes nationally and internationally keeps us at the forefront of business brokerage.
Since 1981, Indiana Business Advisors has taken the mystery and confusion out of buying a business. That's because we possess the depth of knowledge, experience, and key business relationships required to give you discreet, full-service, investment banking-level professionalism through every step of the transaction. Your success is our success.
Jamar Cobb-Dennard's Biography
Jamar Cobb-Dennard comes to IBA as a businessman and politician.
Jamar came to Indianapolis with a dream of opening a business and eventually serving the community through politics. He started his career in sales and leadership consulting. Jamar was a top 10 award-winning salesperson. As a consultant, Jamar routinely helped companies grow 40% in the first year of his engagements. Jamar also owned a sales recruiting firm and transportation business.
Later, he completed his Juris Doctorate degree at the Indiana University Robert H. McKinney School of Law. After graduation, Jamar ran to become mayor of the city of Lawrence, Indiana. His campaign earned 49% of the vote and established a vision for economic development, connectivity, and wellness.
Jamar's additional political involvement included board membership for the City of Indianapolis Department of Public Works, and as the state vice president of the Indiana Democrat African American Caucus. He is also a precinct committee person and regular political analyst on Fox59, Indiana Issues with Abdul Hakim-Shabazz, and rtv6.
Jamar is a fan of personal challenges and community leadership. He has walked on fire with Tony Robbins, was part of breaking a Guinness World Record, and crossed the North American continent by bicycle. He led the Little Red Door Cancer Agency to host America's largest Zumba class and was instrumental in shutting down dangerous, 'Club Industry', in downtown Indianapolis.
Jamar Cobb-Dennard is a Stanley K. Lacy Executive Leadership Series graduate, was recognized as a 2013 Emerging Leader by 100 Black Men, an Indianapolis Business Journal Forty-Under-40 award recipient, and a 2017 Trailblazer by the Alpha Foundation for the Youth.
Contact Jamar:
317-218-8634
Email: jamar@Indianabusinessadvisors.com
LinkedIn: https://www.linkedin.com/in/jamarcobbdennard/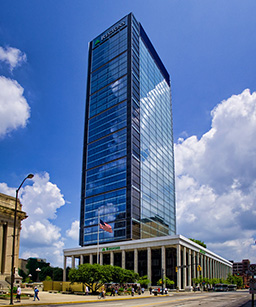 Contact Information
Indiana Business Advisors
9333 N Meridian St, Ste 200
Indianapolis, IN 46260
· · · · · · · · · · · · · · · · · · · · · · · · · · ·
Office: 317-573-2100
Hours: Mon.-Fri. 9 am-5 pm
· · · · · · · · · · · · · · · · · · · · · · · · · · ·
Appointments: Click Calendly