IBA Executive & Transactional Team
Indiana Business Advisors has sold over 2,200 businesses for Indiana small business owners. We are the leading and largest business brokerage firm in Indiana specializing in marketing and selling Main Street and Lower Middle Market businesses. With more than 175 Indiana businesses available for acquisition and more than 220 franchisers seeking to expand in the state our access to a network of 10,000 businesses of all sizes nationally and internationally keeps us at the forefront of business brokerage.
Since 1981, Indiana Business Advisors has taken the mystery and confusion out of buying a business. That's because we possess the depth of knowledge, experience, and key business relationships required to give you discreet, full-service, investment banking-level professionalism through every step of the transaction. Your success is our success.
Steve Pierce's Biography
Steve is a CPA and has successfully represented hundreds of clients buying and selling businesses through Indiana Business Advisors. As a Business Intermediary, Steve's area of expertise includes Mergers and Acquisitions for manufacturing, wholesale distribution, and mid‐size service businesses. His background and training in large Fortune 500 corporations and managing small entrepreneurial-type companies has given Steve a wide breadth of experiences to draw from.
Steve began his career in 1970 with the Public Accounting Firm of Ernst & Ernst in Indianapolis. He joined Central Soya Co. of Fort Wayne, IN as an Auditor and subsequently held positions as an Accounting Manager and Financial Analyst for International Operations. In 1980, he joined Staley Mfg. Co. of Decatur, IL as a Division Controller. In 1987, he became Corporate Controller for a small biotech company called United AgriSeeds, later acquired by Dow Chemical. At Dow AgroSciences in Indianapolis, Steve enjoyed further success by holding positions of Financial Systems Development Manager, Global Cost Accounting Manager, and Credit Manager.
As a Credit Manager at Dow, Steve was actively engaged with customers and clients throughout North America and managed a risk portfolio over of $500 million. Having served in the role of Credit Manager as well as prior experiences in auditing, forensic auditing, financial and accounting management, Steve has become an expert in analyzing financial information and risk assessment.
Steve's education and experience include a BS degree in accounting from Ball State University. He is a Certified Public Accountant and is a member of the International Business Brokers Association.
Contact Steve:
Phone: 317‐218‐8624
Email: SJPierce@indianabusinessadvisors.com
LinkedIn: https://www.linkedin.com/in/steve-pierce-cpa-4721b155/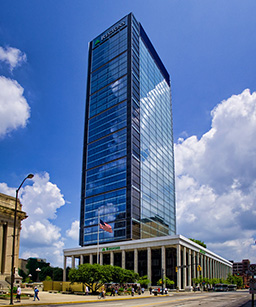 Contact Information
Indiana Business Advisors
9333 N Meridian St, Ste 200
Indianapolis, IN 46260
· · · · · · · · · · · · · · · · · · · · · · · · · · ·
Office: 317-573-2100
Hours: Mon.-Fri. 9 am-5 pm
· · · · · · · · · · · · · · · · · · · · · · · · · · ·
Appointments: Click Calendly