IBA Executive & Transactional Team
Indiana Business Advisors has sold over 2,200 businesses for Indiana small business owners. We are the leading and largest business brokerage firm in Indiana specializing in marketing and selling Main Street and Lower Middle Market businesses. With more than 175 Indiana businesses available for acquisition and more than 220 franchisers seeking to expand in the state our access to a network of 10,000 businesses of all sizes nationally and internationally keeps us at the forefront of business brokerage.
Since 1981, Indiana Business Advisors has taken the mystery and confusion out of buying a business. That's because we possess the depth of knowledge, experience, and key business relationships required to give you discreet, full-service, investment banking-level professionalism through every step of the transaction. Your success is our success.
Larry Metzing's Biography
A seasoned veteran of assisting business buyers and sellers in a wide range of businesses throughout Indiana for more than three decades, Larry Metzing is a Senior Partner at Indiana Business Advisors.
He has been an investor or principal in several businesses serving the healthcare, apparel manufacturing, office coffee service, retail chocolate franchise, domestic product manufacturing, residential real estate development, residential construction, industrial real estate, and GPS technology for transportation and fleet management.
Metzing's extensive personal network with buyers, sellers, accountants, bankers, attorneys, and other business associates is an added value for any client relationship.
He began his career in 1970 with Ernst & Ernst in Indianapolis. A decade later, he formed an entity to acquire, own and operate a chain of nursing homes, a business he later sold. In 1981, Metzing co‐founded Indiana Business Brokers and through mergers became Indiana Business Advisors which has become Indiana's largest and most experienced business intermediary.
Metzing earned a bachelor's degree in accounting from Ball State University. He is an Indiana-certified public accountant and a licensed real estate broker. He serves Ball State University as Vice-Chair and Executive Committee member of the Alumni Council, member of the Entrepreneurship Advisory Board, and a Director of the Ball State Foundation. He is a member and past president of the Venture Club of Indiana.
In 2005, Metzing was recognized by the Indiana Certified Public Accountant Society as an Outstanding CPA in business and industry. In 2012, Metzing was inducted into the Ball State Miller College of Business Hall of Fame.
Contact Larry:
Phone: 317‐844‐6282
Email: lmetzing@indianabusinessadvisors.com
LinkedIn: https://www.linkedin.com/in/larrymetzing/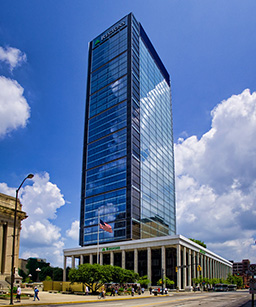 Contact Information
Indiana Business Advisors
9333 N Meridian St, Ste 200
Indianapolis, IN 46260
· · · · · · · · · · · · · · · · · · · · · · · · · · ·
Office: 317-573-2100
Hours: Mon.-Fri. 9 am-5 pm
· · · · · · · · · · · · · · · · · · · · · · · · · · ·
Appointments: Click Calendly